I'm excited to share my Budget Master Bathroom Renovation for only $400, and no renovations were required! We have lived in our house for three years and contemplated renovating our master bathroom. The project seems like an incredible undertaking both financially as well as time-consuming. I even went so far as to get a few contractors to come in and quote the job and their quotes ranged from $12,000 to $21,0000. Needless to say, I became the contractor, designer, and skilled laborer.
Paint Works Miracles:
Prior to my budget master bathroom renovation, my bathroom consisted of cultured marble, brass, and porcelain tile. Also, the walls were sea-foam green. Here's some pictures of what it looked like before. The first solution was to spray paint every brass fixture in the bathroom. I sprayed every light, doorknob, hinges, toilet paper holder, towel bars, and shower door. I took everything outside and sprayed it with Rust-Oleum Oil Rubber Bronze spray paint, except for my shower door. My door hardware was 25 years old and rusted into place in some parts, so I just gave it a really good cleaning then taped everything off and sprayed it with multiple coats. (No primer or top coat were used. Just three coats of spray paint. It was extremely messy and required lots of clean up. If possible, I would recommend taking your door outside if you can. If you can't, it's still completely worth the mess!!!).
Choosing the Color Palette:
My color palette was already partially selected for me because I decided to work with what I had since we weren't doing any renovations to our bathroom. My floor tile is white and gray and made to resemble fake marble. Thus the colors white and gray were a given color. My cultured marble is off white, and the fixtures in my house are oil rubbed bronze. Therefore, my color palette I used was dark brown, gray, off white, and white. My inspiration was a spa-like setting lots of textures and a calming atmosphere.
The Big Transformation:
To tie in all the colors and update the cultured marble I decided on edging my shower, bathtub, and vanity builder grade mirror in glass mosaic tiles. I chose a tile that matched my color scheme. I found it at Lowes it's American Olean Mosaic Chateau Emperador Linear Mosaic Stone and Glass Marble Wall Tile. The best part is a 12×12 sheet's only $4.98!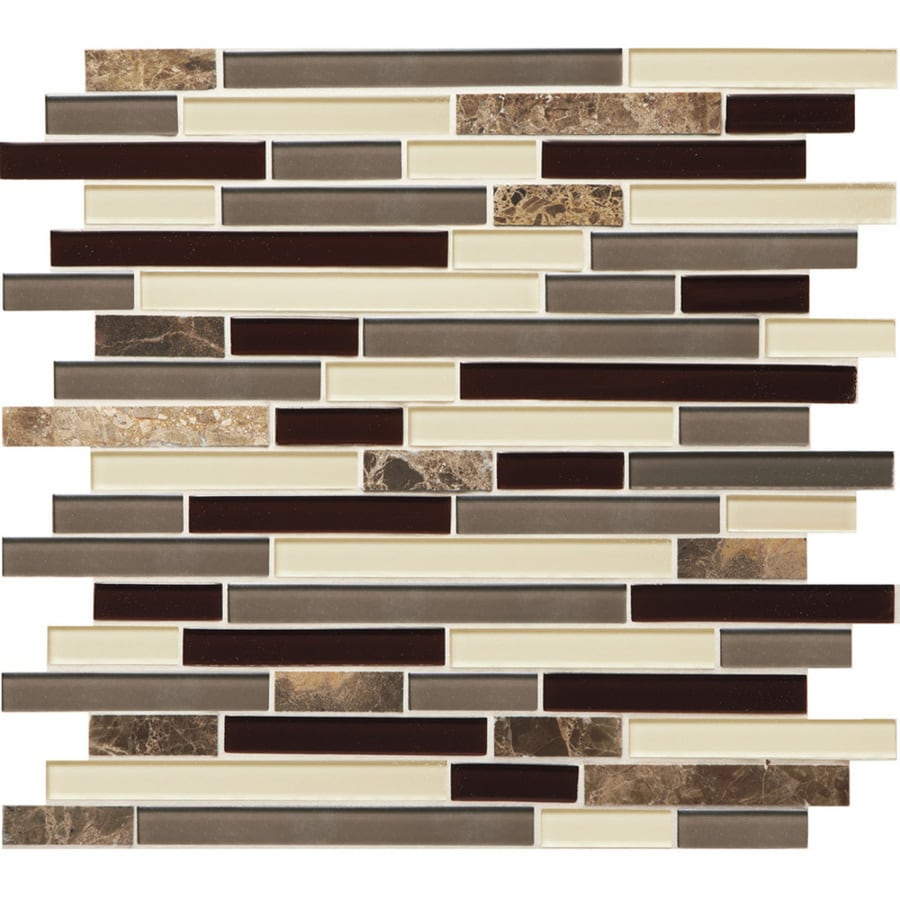 I bought only a few sheets because I cut the sheet down into strips of three to go around my mirror, tub and the sides of my shower. The top section of my shower is six rows. I used mirror and construction adhesive to adhere these to the drywall and mirror. After the tiles had a day to adhere, I then grouted the tile with premixed beige grout. (This was totally easy, and I had never done anything with tile before this project).
Updating Fixtures:
I did splurge on new faucets for my sinks, bath tub and shower. I decided not to spray paint these since they are used daily and was afraid the paint would not hold up. Also, my tub and shower had fake crystal knobs which would still have looked dated. Instead, I bought all my faucets on Amazon since it was much cheaper than in store.
Staging and Decorating:
After the dirty work was complete, it was on to the finishing touches. I gave the room some warm textures by incorporating sea grass baskets and a large oversized rug. Both I found at At Home. The rug serves two purposes. First, it protects my toddler from slipping and falling on the porcelain tiles, as they're very slippery. Two, the rug hides some of the ugly floor tiles.
The baskets hold daily necessities like cotton balls, Q-tips, soap, and toilet paper.
I also filled the room with life my adding some family photos and candles into the space to set a relaxing mood while in the tub. The candles are surrounded with a cotton scented potpourri, providing a feeling of cleanliness and comfort.
Thanks for reading, I hope you enjoyed my budget bathroom renovation. If you're looking for more home decor and improvement inspiration follow up on Pinterest!